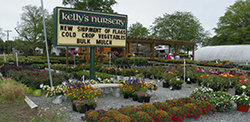 Our Annuals
We pride ourselves on having the best annual selection in the area. Our annuals are healthy and beautiful, and they are also very affordable. Each one of our annuals is grown from tiny plugs or seeds right here in our greenhouses, and we take special care that every plant is up to our high standards. Come on in and visit our knowledgeable staff for help with color combinations and design ideas.
Perennials and More
Our ever-expanding perennial selection provides you with an exceptional landscape palette. This year we are excited to carry even more variety, Showcasing colors and ease of maintnence. We also continue to expand our store to carry Local Products to enhance your life
Vegetables and Herbs
Reap the fruits of your labor when you plant our vegetables and herbs! You can eat the summer away with tomato, pepper, zucchini, squash, melons, cucumber, cabbage, broccoli, cauliflower, collards, lettuce and much more. Check out our new selection of Heirloom tomatoes and don't forget to spice it up with our extensive selection of herbs.
We carry Locally made Jams and Jellies, Beautiful Glass Bird feeders and baths. We also have a Large selection of ornamental flags, as well as our great selections of seeds, fertilizers, feeds and gifts. Hummingbird Feeders and Ornamental stone also are Here at Kelly's!
Scented Candles
"Drive on out to see me in Beautiful Chuckatuck,Va. Let my family and staff show you our Prouducts and Pride!"
Ronny Kelly
Owner